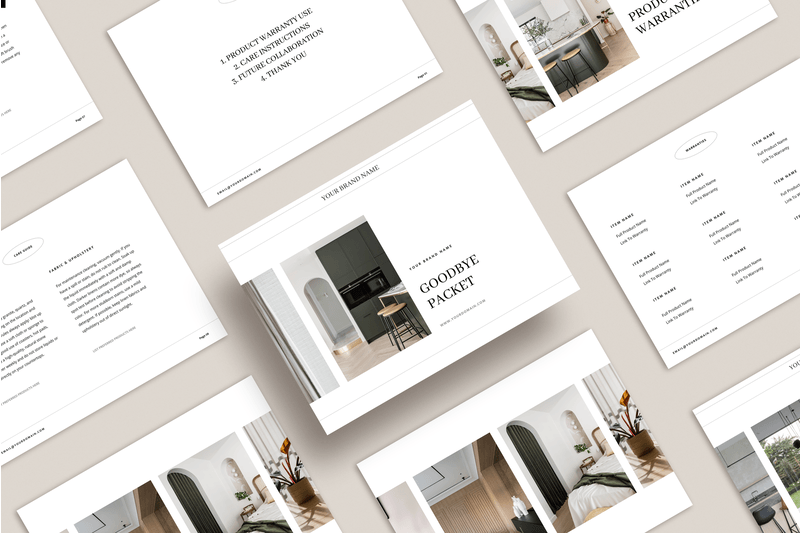 The Riley Goodbye Packet for Interior Designers
We designed the Riley Goodbye Packet with our popular Riley Website Template in mind. We designed the Riley Welcome Guide with our popular Riley Website Template in mind. Riley is known for her bold typography, moody tones, and an entirely editorial feel. This thoughtfully designed Welcome Guide is the perfect starting point for an intimate, effortless design experience.

 

This fully editable Canva template is a 14-page document that serves as a formal conclusion to your design project, including a love note with sincere well wishes, care guides for furnishings + finishes, and appropriate next steps. Each of our Goodbye Packets offer done-for-you copy that is polished, thorough, and easy to edit. To further personalize your guide, just add your brand fonts and colors.

 

This Goodbye Packet Template for Interior Designers Includes:

 
Carefully-crafted copy waiting for your personalization
Cover Page
Table of Contents
Thank You Page
Product Warranty Use Pages
Product Care Instruction Pages
How To Work Together After Completion Page
Thank You + Contact Page
Upon purchase, you will receive immediate access to a PDF download, linking you to the Canva template. Canva is a free online graphic design software. To create an entirely seamless and branded client experience, purchase the entire Riley Client Process Bundle here.
TERMS OF USE

This Investment Guide Template is intended for unlimited use by one person (the purchaser). This license is non-exclusive, meaning that other people will be able to purchase our template packages. You also cannot resell, lease, duplicate, license, sub-license, redistribute, or offer the template for free to any third party or marketplace.

To read our full Terms of Use and User Agreement, please click here.